A new tailoring center is set to open in Nepal, located in a slum with the highest rate of prostitution, along with a six-month tailoring class in a remote village.
ServeNow has successfully been conducting six-month anti-trafficking tailoring courses for the past several years in Nepal. Just this April, all thirty participants in one program completed the training! Upon graduating, they were given a sewing machine from ServeNow so they could begin generating an income. Their stories of success are remarkable! You can read more here: Graduate Stories.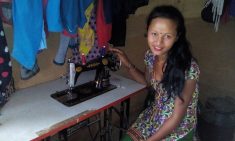 This fall, two more classes of thirty young women each, are due to start. The first is in a slum with the highest rate of prostitution. This is a new center that ServeNow will begin operating, aimed especially for those who think prostitution is their only means of survival, but also others at risk of human-trafficking. The other, is a six-month program set to take place in a remote village where many young women are at risk of being lured away by the fake promises of traffickers.
Nepal is a major hub for human trafficking. It is one of the poorest countries in the world. This combination puts many young women at risk. ServeNow's six-month tailoring courses provide not only an income generating skill (and sewing machine upon graduating), but also awareness training. These same young women often not only start their own business, but serve as "neighborhood watchers" for others in their communities for others at risk.
If you would like to help sponsor a young woman there are several options.
$83 a month for six months provides training for one student plus a sewing machine upon graduation.
$300 provides training for six months for one student.
$500 sponsors a young woman for six-month training plus a sewing machine upon graduation.
$6,000 provides a sewing machine to all 30 graduates.
$9,000 provides training for a whole class of 30 students.
$15,000 provides training and sewing machines for a whole class of 30 students.
If you would like to provide an alternative to prostitution or prevent women from being trafficked, you can make a tax-deductible donation online here: Anti-Trafficking Skill Training. Or you can mail a check to: ServeNow, 5225 North Academy BLVD, Suite 206, Colorado Springs, CO 80918. You can also call us at 719-900-1800 or e-mail us at office@weservenow.org.
About ServeNow
"Serving people in need by caring for orphans, widows, underprivileged children and youth as well as equipping the church for greater fulfillment of its ministry, and providing humanitarian assistance where needed."